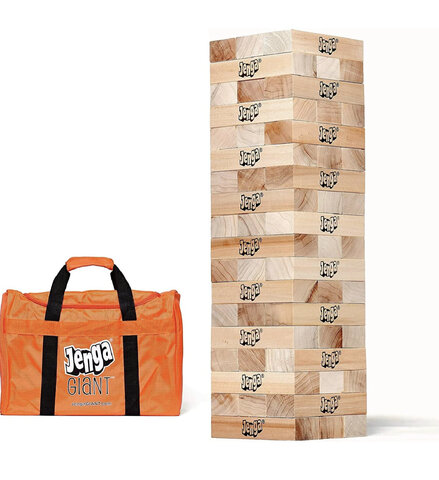 JUMBO JENGA




| | |
| --- | --- |
| Base Price – up to 4 hours of fun! | $50.00 |
| 5 - 8 Hours Rentals | $75.00 |
| 9 - 16 Hours Rentals | $125.00 |
| GREAT VALUE PARTY ALL NIGHT LONG Pick up after 8AM next day! | $150.00 |
| BEST VALUE PARTY ALL NIGHT LONG AND DAY Pick up after 5PM next day! | $100.00 |
| Week Day Pricing 10% off | $50.00 |



Have Fun Playing the Classic JUMBO JENGA GAME for your event!!!
Jumbo Jenga is a classic game that is perfect for outdoor gatherings, parties, and events. This giant version of the popular stacking game is made up of 54 wooden blocks that are each 7.5 inches long, 2.5 inches wide, and 1.5 inches tall. The blocks are crafted from high-quality wood, making them sturdy and durable for repeated use.
To play, players take turns removing one block at a time from the tower and placing it on top. The goal is to keep the tower standing as long as possible without it toppling over. As the game progresses, the tower becomes increasingly unstable, making each move more challenging and exciting.
Jumbo Jenga is a great way to bring people together and create lasting memories. It's perfect for all ages and skill levels, making it a versatile addition to any event. Whether you're hosting a backyard barbecue, a company picnic, or a family reunion, Jumbo Jenga is sure to be a hit with everyone.This JUMBO JENGA Game rental provides hours of entertainment. This game can be booked by itself or with other Games and when combined with a bounce house rental it will add fun to any birthday party, church event, school event, family reunions or special occasion.
This JUMBO JENGA game is one of the best game options available for delivery in Dallas, GA, Hiram, GA, Rockmart, GA, Marietta, GA, Powdersprings, GA, Villa Rica, GA, Douglasville, GA, Mableton, GA, Acworth, GA, Smyrna, GA, Cartersville, GA, Atlanta, GA, Austell, GA, Woodstock, GA.